Written by Brett, Posted in General & Random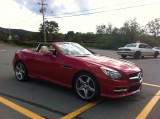 The rains have stopped in Upstate New York, but the over-capacity streams continue to churn in their quest for the Atlantic. This means that the lovely hamlet in which my country house sits is about to be ravaged by the mighty Delaware River, which crested late last night. It also means: Disaster Touring! But what to drive?
Fortunately, this week, I am in possession of a 2012 Mercedes SLK Roadster. Because nothing says prurient-asshole-from-The-City- cruising-about-ogling-ruination-simply-for-sport like a bright read Benz convertible. Let loose with other suggestions in the comments below.