Written by Brett, Posted in BOAT International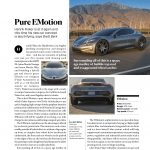 Henrik Fisker is at it again, with a Space Age medley of bulbous wheel arches, a bubble top roof, and a fantastical electric powertrain. Will the EMotion gain traction?
Click on the thumbnail above (and then click again) to view a crappy scan. Or just buy the magazine on the newsstand, you chintzy bitch.