Written by Brett, Posted in DETAILS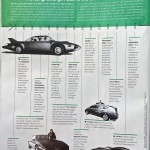 Norman Bel Geddes, who designed GM's Futurama exhibit at the 1939 World's Fair, predicted that "Cars of 1960 and the highways on which they drive will have in them devices which will correct the faults of human beings as drivers." He was wrong.
My latest car page for DETAILS. Click on the thumbnail above, and then click on it again, to view a cruddy scan.