Written by Brett, Posted in The Official Ferrari Magazine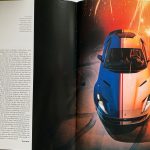 To celebrate the opening of their new Tailor Made customization shop in New York, Ferrari customized an 812 Superfast in Rosso Corsa, Bianco Sanae, and Blu Montecarlo. You know, like the American flag.
Click on the thumbnail above, and then click again, to view a crappy scan. Or just buy the magazine on the newsstand, you chintzy bitch.