Glee LIVE is a Tweenage Dream
Written by Brett, Posted in General & Random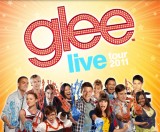 I almost didn"t make it to the Glee Live show this year. A variety of factors conspired to sabotage my attendance: Unlike in 2010, when it was held in Midtown Manhattan at the intimate-ish Radio City Music Hall it was being staged at a pair of generic sports stadiums in uncharted (for me) areas of New Jersey and Long Island; my intended companion became bogged down in a work-related kerfuffle; and another, much more profitable consulting project colonized the appointed time. But then, a countervailing set of forces""perhaps the work of our deity, Gayus?""swooped in and made my presence ineludible: The loan of a boulevard-friendly Swedish convertible for the ride to the Island; the luck of a gorgeously breezy summer night; the appearance of an ideal and fun-loving replacement confederate; the opportunity for a little mild tailgating courtesy of Gentleman Jack and Doctor Pepper; and, most important, the gift of some stellar seats from the folks at FOX.
Just how good were my seats? Good enough that I could read the expressions""or in Dianna Agron"s case, inscrutable prettiness""on the actors" faces. Good enough that I could almost discern the topography of Chord Overstreet"s six-pack through his jersey-T. And good enough that when, during the climactic vociferation of "Born This Way"¯, a quartet of frenzied roadies leapt onto the stage, and began firing at the audience with bazookas loaded with pelletized t-shirts, not one, but two of these projectiles beaned me in the strike zone. (No seat would have been close enough to allow me to catch them; I demand private lessons from Buster Posey.)
Adding to the spectacle""and what else is an in-person, arena-sized production of staged lip syncing by a collection of nubile twenty-somethings pretending to be the teenage members of a fictional vocal group from an ersatz Midwestern TV high school, but pure spectacle?""I counted at least five different types of pyrotechnics. And only one of these""the eponymous explosions during the singing of Katy Perry"s inane dance ballad, "Firework"¯""was as manifestly literal as a typical song/plot correspondence on any given episode from the show"s second season. The other eruptive ordnance included smoke, flames, confetti, and Amber Riley"s voice, which was one of the evening"s highlights on Aretha"s "Ain"t No Way"¯ and Ike and Tina"s "River Deep, Mountain High"¯ (performed in a spousal abuse-free duet with the ever-splendid Naya Rivera.)
Other standout couplings included the joyous and jelly-filled subject/object mating ritual between Mark Salling and Ashley Fink that was broadcast across the arena via Queen"s "Fat Bottomed Girls"¯, the gloriously bifurcated idolatry between Heather Morris"s Brittany and the real ("real?"¯) Britney on "I"m a Slave 4 U"¯, the cutsey gay marriage banter/schtick between Chris Colfer and Darren Criss, and the glittery rendition of Michael Jackson"s "P.Y.T."¯ which featured the inordinately soulful vocals of Kevin McHale and the mad-stepping of dance virtuoso Harry Shum Jr. Harry was also responsible for choreographing some of the street-dancing opening act, the gravity-defying quality of which prompted my companion to ask "What ever happened to that super gay, web dance series you were always writing about?"¯ I pointed at the stage. "That"s them."¯ Finally, I have to praise the duet of Lea Michele and her ego on "Don"t Rain on My Parade"¯; say what you will, the girl can sayng.
And the concert experience? Well, removed from the tedious plotting and insultingly sub-par writing that has plagued the show this year, the overall effect of the performance was one of irrepressible bliss, a feeling that was obviously shared by the thousands of middle school girls, moms, and Gays (myself included) whose Tweenage Dream was granted in attending. But while last year"s live show felt akin to being placed""purposely, and happily""in the excretory orifice of a pop culture snake that had eaten and digested its tail, this year"s overall takeaway was a bit more mild. Glee has become such a constitutive juggernaut in our entertainment universe, that its bizarre form of broadcast karaoke, and the correlative shrieks and eruptions this elicits, no longer feels surprising or weird, merely inevitable.
But having the opportunity to watch the kids collectively strut around on stage, smiling and slapping hands with one another in a camaraderie I know to be heartfelt, pumping their fists like they"re the tummlers at Grossinger"s in 1962, and belting out the lyrics to broadly anthemic songs like they mean them""and I think they do""reconnected me with just how wonderfully dorky the Glee enterprise is. (Show Choir Rules!!) If, in season three, the show can more capably mine, and be mindful of, that heartfelt truth, it may have a chance of finding its way again.