Ferrari Enzo Replacement, Explained!
Written by Brett, Posted in General & Random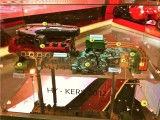 The latest Ferrari super-car–a replacement for the fast and ungainly Enzo–will appear some time before year's end. We had a chance to view its crazy hybrid power-train firsthand at the Beijing Auto Show, and explicate it in terms anyone can understand, for Vanity Fair.