A Market In Search of a Car
Written by Brett, Posted in Linkage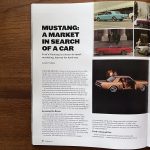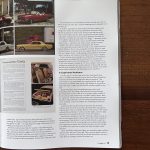 While many have attributed the premiere pony car's success to felicity or serendipity, it was actually the product
of a premeditated assault, utilizing modern methodologies to predict consumer needs.
This is my first story for Linkage, a gorgeous new mag put out by the Audrain Automotive Museum, in Newport, RI. Click on the thumbnails, then click again, to view a crappy scan. Or subscribe to the magazine yourself, you chintzy bitch.