Written by Brett, Posted in Road & Track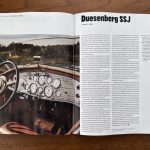 Recalling my childhood obsession with Duesenbergs, and my time driving Gary Cooper's one-of-two Duesenberg SSJ, a car that sold shortly thereafter for $22.5 million, setting a record for the most expensive American car ever auctioned.
Click on the thumbnail above (and then click again) to read a crappy scan. Or just subscribe to the glorious Road & Track, you Chintzy BltĘh.